HARP Hosts 4th Annual Red Lock Campaign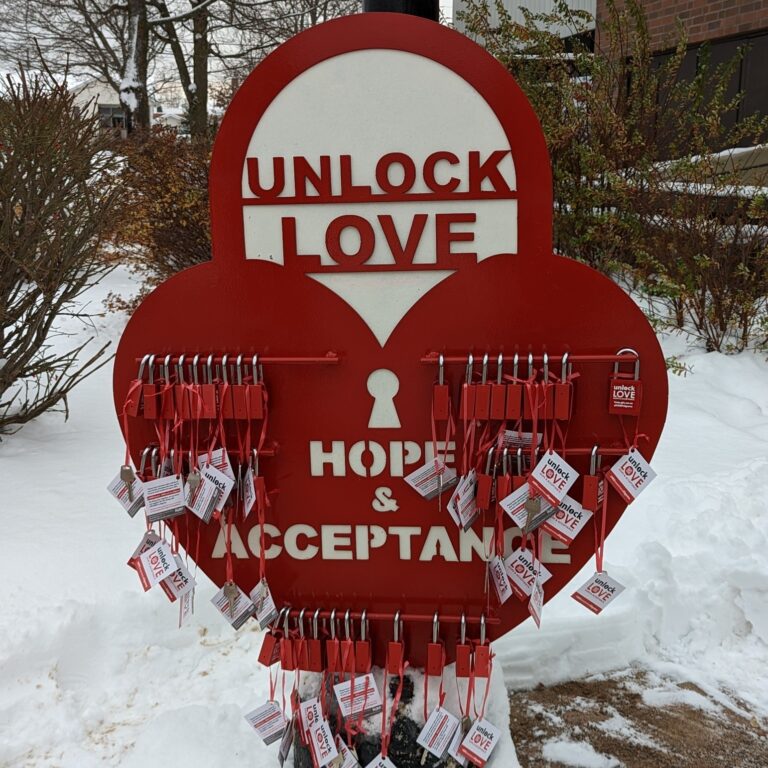 Sault Ste. Marie, ON (Nov. 22, 2022) – Group Health Centre's HIV and AIDS Resource Program (HARP) is excited to launch its 4th annual Red Lock campaign across the Algoma District. The launch of this campaign coincides with the start of HIV Awareness Week, beginning Nov. 24 and continues until World AIDS Day, recognized internationally on Dec.1 and the beginning of Indigenous AIDS Awareness Week.
For Worlds AIDS Day, the theme for this year is the word, equalize.  Equalize is a call to action and reminds everyone to work towards the proven practical measures needed to address inequalities and help end AIDS.
"Ontario HIV Programs are working every day to remove barriers for people obtaining HIV testing and treatment, whether it be access to HIV self-tests or simply helping people to get to appointments," said Shana Shipperbottom, Support Services at HARP. 
HARP's Red Lock campaign is designed to raise awareness about HIV and promote the advancements that have been made in treating the virus. The goal is to shift the conversation to one of compassion and support, which will show people that getting tested is important for everyone. Through this campaign, HARP hopes to end the stigma associated with the virus – which is the most significant barrier to people seeking testing and treatment.
"There's still so many myths and misconceptions out there – it's about willingness to learn from a place of compassion and understanding that people on effective HIV treatment can't pass the virus on," Shipperbottom said.
During this year's campaign, residents of the Sault can expect to see 4 Red Lock installations and many displays. Red Lock installations are located across the city, including Group Health Centre, Sault Area Hospital, Fort Creek, and the Boardwalk. These displays have been installed to raise awareness, help reduce barriers and provide education about HIV and AIDS. HARP invites residents to visit one of their displays and take a lock. The locks are a gift to remind us that despite our differences, we hold the key to unlocking love, hope and acceptance.
Residents are also encouraged to take a picture with the lock and post it to social media accounts with the hashtag #hivawareness and tag @HARPAlgoma on Instagram or Facebook.
Information displays will also be located in the communities of Wawa, Thessalon First Nation, Mississauga First Nation, Blind River, Elliot Lake, Serpent River First Nation, Michipicoten First Nation, Garden River First Nation, and Batchewana First Nation, in addition to 40 different partners and agencies that HARP is working with to get the word out about the Red Lock campaign. 
Group Health Centre's HARP is the leading source of information on HIV and confidential support for people living in the Algoma District. HARP offers an understanding, supportive environment with a wide variety of prevention information and access to harm-reduction materials.
Please visit harp.ghc.on.ca to learn more about the campaign or find a display in the Algoma region near you. The displays will be up until Dec.7th.
-30-