At Group Health Centre, we believe that accountability and transparency are the foundation of trust. We are committed to upholding these values by being open and honest in all our operations.
As a healthcare organization, we understand the importance of maintaining a high level of accountability to our patients, their families, and the wider community. We are proud to say that we have been providing quality healthcare services to Sault Ste. Marie and the surrounding area for 60 years.
We believe that our success is built on our commitment to transparency, and we are dedicated to providing the highest level of accountability possible. We are committed to ensuring that all our operations are conducted in a manner that is ethical, legal, and responsible.
We are committed to being open and transparent, as we believe that transparency is critical to maintaining trust and confidence in our organization.
If you have any questions or concerns, please do not hesitate to contact us. We are always happy to hear from you.
The Sault Ste. Marie and District Group Health Association (GHA), a not-for-profit and charitable healthcare organization operating as the Group Health Centre, provides outpatient primary care, specialty care, and other community-based health services to the population of Sault Ste. Marie and Algoma District.
The Sault Ste. Marie and District Group Health Association (GHA) and the Algoma District Medical Group (AMDG) are two groups linked together by a common objective – to meet patients' needs.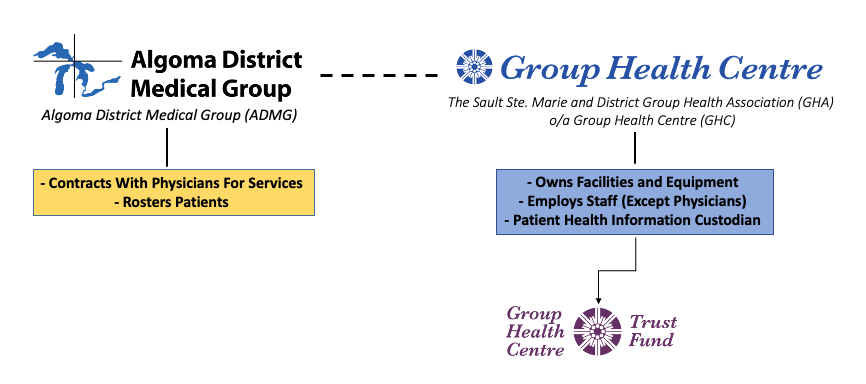 GHC Documents & Information​
GHC is committed to being open and transparent with its stakeholders and the general public. Further to this commitment is our compliance with the Broader Public Sector Accountability Act 2010.  This act was implemented to strengthen and reinforce accountability, transparency and oversight of expense claims.
As per direction received from the Minister of Health, GHC has created this summary which details the expense reports of the GHA Board leadership and GHC Executive Team.
Lil Silvano,
President & CEO
Darren Fetterly,
VP Clinical Operations
Kim Lemay,
VP People & Strategy
Christine Evoy,
VP & CFO
Lil Silvano,
President & CEO
The following is a link to a summary report of Ms. Silvano's Disclosure of Expenses:
Darren Fetterly,
VP Clinical Operations
Kim Lemay,
VP People & Strategy
Christine Evoy,
VP & CFO
GHA Board of Director Leadership
Dr. Celia Ross, Chair
Susan Vanagas-Cote, Vice Chair
Dr. Celia Ross, Chair
The following is a link to a summary report of Dr. Ross's Disclosure of Expenses:
Susan Vanagas-Cote, Vice Chair